Ruth Willsher receives the 2015-2016 Eva James Award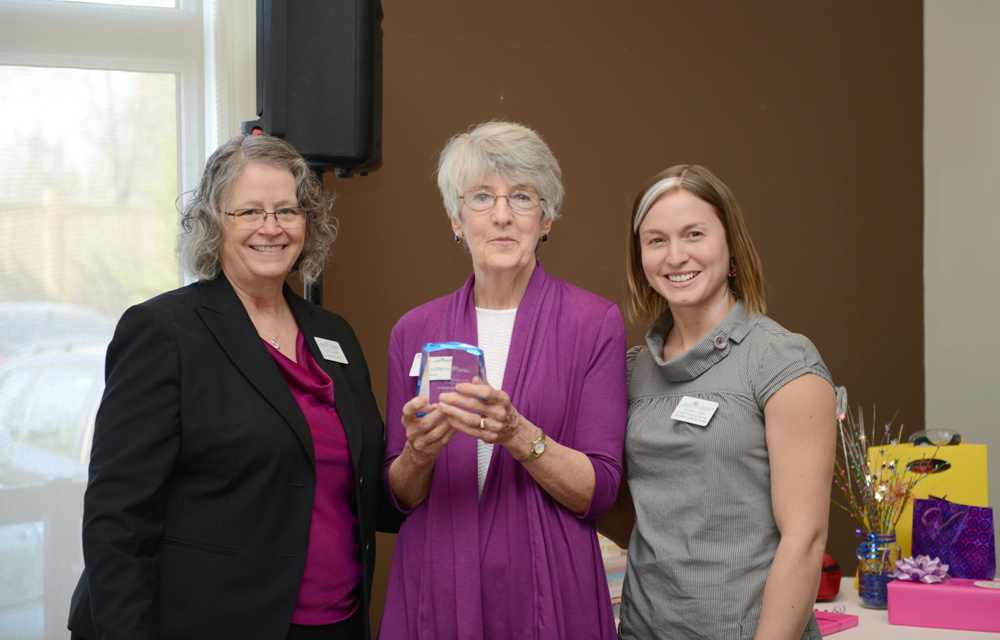 Each year, the WOCRC accepts nominations for the Eva James Award, an award established to recognize a volunteer who best personifies the commitment exemplified by Eva James. Eva James was a dedicated community volunteer who passed away suddenly in 1995. Eva enthusiastically volunteered in our community for over 15 years and was one of the key people who helped to create the WOCRC. This year, the Eva James Award was given to Ruth Willsher, a community member who always goes above and beyond for others.
Ruth's dedication, kindness, reliability, positive attitude and punctuality are part of what makes her an outstanding volunteer. As a volunteer for the Ontario Early Years Centre – Carleton (OEYC) for almost 11 years, Ruth is often a parent's first contact with the WOCRC. Her soft and inclusive demeanor is what greets the parents as they come in to the programs.
After her retirement, Ruth wanted to give back to the community. "My life is so good; I like to help other people," she says. It helps when you enjoy what you're doing. "It is fun working with the kids and meeting the families," she adds. "They always remember you."
Ruth plays a key role in creating a welcoming environment by making sure the OEYC space is inviting and safe, by bringing craft ideas and supplies and even preparing fresh coffee. Ruth anticipates the families' needs and assists in any way she can: from getting families settled in and helping with sign-in procedures, to paying special attention to new families – an excellent example of how the Centre's mission statement is put into action. "Families look to her for guidance and leadership during our drop-in program," says Joceline Jaillet and Dominique Clermont, OEYC Family Resource Workers. "She connects very easily with families, creating lasting relationships by showing genuine interest and following up with them."
OEYC staff describe Ruth as tactful, kind, caring and sensitive, always inviting conversations with families while ensuring not to guide new parents with her own advice but to support the Centre's philosophy of giving information and empowering them. "Ruth started by helping me at Mother Goose many years ago," explains Susan Wheat, OEYC Family Resource Worker. "I appreciated her energy to set up in various outreach locations, her voice to help with the singing and her gentle way with the mothers and babies."
In the fall of 2015, Ruth enthusiastically offered to help out at the Homework Club program as it was in desperate need of volunteers. It was quite a jump for her to work with preschool children to school aged children. The interactions and responsibilities are quite different but she jumped in with both feet. "While things can get very hectic at the clubs, with 30 children needing support, Ruth keeps a cool head and manages to 'spread' herself out where needed," says Colleen Taylor, Children's Community Developer. "Her calm and steady approach makes her a wonderful addition to the Club and her time and dedication is making a difference in the lives of young people."
She comes to the WOCRC with a wealth of life experience as a mother and grandmother, which has only enhanced the quality of care and service that the Centre delivers.
The staff of the WOCRC would like to thank all the volunteers who have dedicated their time in 2015-2016 to better their community. Their kindness and dedication are greatly appreciated.