Friendly Visiting and Telephone Assurance
Volunteers are matched with individuals who are feeling isolated to provide regular social contact as well as the reassurance that help is available if needed. This free service may be provided by a personal face to face visit, by telephone or other means for clients who need regular social contact on a one-on-one basis.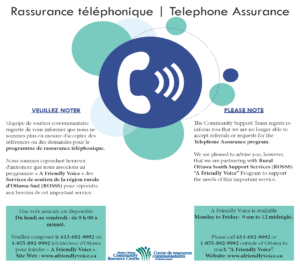 If you live outside of Kanata, Nepean and West Carleton, please use Caredove to find the nearest provider of this service.
Related Programs and Services