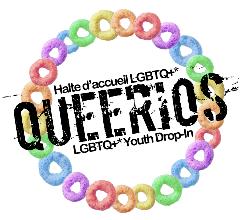 Queerios is a drop-in program for youth 12-18 who identify as LGBTQ+. Like The Zone, it has a focus on social activities, positive mental health, skill-building, and connecting youth to resources in their community. On-site counselling is available to all youth. Activities include art, sports, and games, as well as a nutrition program. The program runs Thursday from 5-8 pm at the Kanata Dick Brûle Community Centre (170 Castlefrank Rd.).
*We would like to acknowledge and welcome all youth who identify as LGBTQ including non-binary, gender fluid, two-spirit, asexual, pansexual, and queer youth. We also welcome straight and cis youth who are invited as a support to their peers.
For more information, please contact youth@wocrc.ca.
Sign up to our mailing list to be the first to hear about new services, programs, and special events for youth!
Youth Services Calendar – July 2023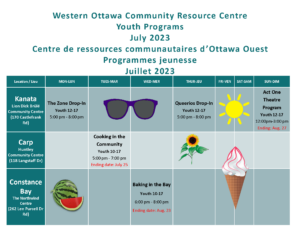 Youth Services Calendar – August 2023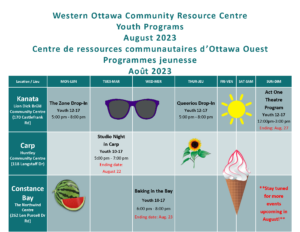 Wondering about being GAY, LESBIAN, BISEXUAL, or TRANSGENDER?
LGBT Youth Line: 1-800-268-9688
Peer support and info for gay, lesbian, bisexual, transgender youth
Centretown Community Resource Centre: 613-233-4443
Free bilingual counselling/support for GLBTTQ youth
PFLAG Canada – Parents and Friends of GLBT people: 613-860-7138
General concerns of health, sexuality, eating disorders
Kind: 613-563-4818
Peer counselling, info and referral, discussion and support groups

WOCRC is a partner of Unsafe at Home Ottawa. Unsafe at Home Ottawa is a text and chat line for survivors of domestic abuse in Ottawa and in Lanark County. This encrypted and confidential line is available every single day, from 8:30 AM to midnight. Click here to speak to a trained support worker now
Related Programs and Services