Queerios LGBTQ+* Youth Drop-In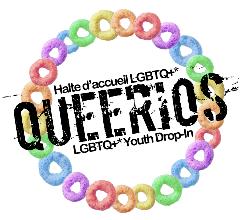 Social group for LGBTQ+* youth, 12-18 years old
Safe(r) space
Hang out and meet new people
Access resources and gain support from staff
Youth and their families can get connected to community resources and services
Inclusion, belonging, respect
Queerios is a social space for LGBTQ+* youth, run by LGBTQ+ staff. Youth can hang out and meet new people, access resources, gain support from staff, and learn about their history. The program runs online on Thursdays from 7 pm-9 pm.
Stay tuned for some special, in-person events coming soon!
*We would like to acknowledge and welcome all youth who identify as LGBTQ including non-binary, gender fluid, two-spirit, asexual, pansexual, and queer youth. We also welcome straight and cis youth who are invited as a support to their peers.
For more information, please contact youth@wocrc.ca.
Wondering about being GAY, LESBIAN, BISEXUAL, or TRANSGENDER?
LGBT Youth Line: 1-800-268-9688
Peer support and info for gay, lesbian, bisexual, transgender youth
Centretown Community Resource Centre: 613-233-4443
Free bilingual counselling/support for GLBTTQ youth
PFLAG Canada – Parents and Friends of GLBT people: 613-860-7138
General concerns of health, sexuality, eating disorders
Kind: 613-563-4818
Peer counselling, info and referral, discussion and support groups
Related Programs and Services