Queerios LGBTQ+* Youth Drop-In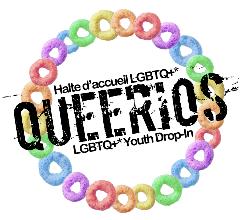 Social group for LGBTQ+* youth, 12-18 years old
Safe(r) space
Hang out and meet new people
Access resources and gain support from staff
Youth and their families can get connected to community resources and services
Inclusion, belonging, respect
Thursdays from 6 p.m. to 9 p.m.
170 Castlefrank Rd. (Lion Dick Brule Community Centre)
Kanata, Ont.
Trans* is an umbrella term that refers to all of the identities within the gender identity spectrum. 
We would like to acknowledge with the asterix, non-binary, and gender nonconforming identities, including (but not limited to) transgender, transsexual, transvestite, genderqueer, genderfluid, non-binary, genderless, agender, non-gendered, third gender, two-spirit, bigender, and trans man and trans woman.
For more information, please contact youth@wocrc.ca.
Wondering about being GAY, LESBIAN, BISEXUAL, or TRANSGENDER?
LGBT Youth Line: 1-800-268-9688
Peer support and info for gay, lesbian, bisexual, transgender youth
Centretown Community Resource Centre: 613-233-4443
Free bilingual counselling/support for GLBTTQ youth
PFLAG Canada – Parents and Friends of GLBT people: 613-860-7138
General concerns of health, sexuality, eating disorders
Kind: 613-563-4818
Peer counselling, info and referral, discussion and support groups
Related Programs and Services