Social Programs
Are you missing getting together with friends, having good conversations, or just feeling a bit lonely?  We invite you to take part in any of the virtual social programs we are offering. We hope you will find them fun, factual, and interesting.  Programs run through a telephone call or your computer (Internet Access required). All programs are free but registration is required.
Telephone Social Program
A fun new telephone program that you can join from the comfort of your own home. Through the use of multi-person phone calls, we provide the opportunity for participants to join in on conversations on a variety of topics, brain-stimulating activities, play bingo, listen to live musical entertainment, and make new and meaningful friendships.
Virtual Zoom Chat
Join in with the discussion or listen to our hosts each week as we explore various topics through a variety of computer presentations.  This program requires a computer and internet access to participate.
To participate in any of these Social Programs call 613-591-3686 option 3 to register and get all of the information you need to join in on the fun. 
Social Calendar – November 2021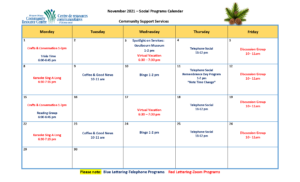 Social Calendar – December 2021