Art 101 is a 5-week program for youth to cultivate and express themselves through art in an open, comfortable space. Art is a form of therapy/self-care.
This program encourages individuals to explore their mindfulness and helps them de-stress in an enjoyable, creative way.
Youth will learn new creative techniques and tools to create art.
Each week will be filled with activities of various art forms including painting with different tools, poetry, music,
cultural art, and therapeutic discussions.
WHEN: Starts June 3, 2021
Every Thursday from 4 – 5:30 PM
AGES: Any youth from 12 – 18
Art supplies will be delivered directly to your door!
TO REGISTER: Email and contact abdillahi@wocrc.ca
**Youth must register before attending and are expected to attend weekly**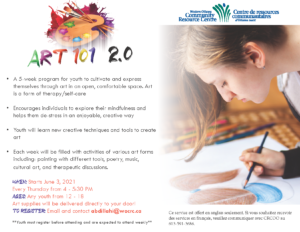 Date: Thu, 06/03/2021 - 16:00
Event Category: Special Events