New Adult Day Program launched in the City's west end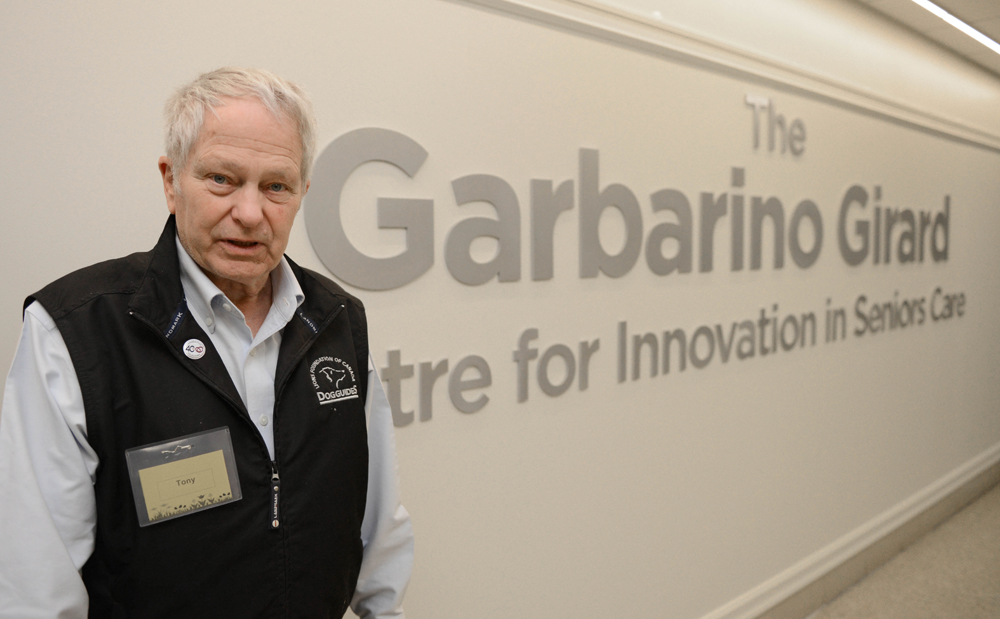 The WOCRC, in partnership with Algonquin College and the Champlain Local Health Integration Network (LHIN), has launched a new Adult Day Program (ADP) in the City's west end. The partnership is a unique one. Simply put, the WOCRC is the facilitator of the program, Algonquin College is the host and the LHIN is the funder.
It's important to note the facility in which the program runs was furnished with the help of a large donation from the Estate of the late Anita Garbarino Girard. In her honour, it was officially named the Garbarino Girard Centre for Innovation in Seniors Care.
Though the Centre will also be used for other activities, its main purpose is to host the WOCRC's second ADP. The new program had its first client on Feb. 18, 2016 and today it is almost at capacity (30 clients in total, or 10 per day).
Just like our original ADP located at our main location (2 MacNeil Court), this ADP has as its main goals to offer respite to caregivers and a full day of activity for adults experiencing dementia-related disorders. More specifically, the program is designed to assist clients in achieving and maintaining their maximum level of functioning and offer the opportunity for socialization.
In addition to providing respite and support to caregivers, participation in ADPs may reduce acute care resource utilization and delay long-term care admissions.
The creation of this program increases ADP attendance days by 1,500. This is significant due to the increase in number of individuals living in the community with a dementia diagnosis.
"It's a desperately needed program," says Tony Lawson, a client of the ADP. Fully aware of his cognitive impairments, he enlisted himself in the program to provide respite for his wife.
The ADP team runs programs focused on mental stimulation, physical activity, socialization and relaxation. This includes, but is not limited to, facilitated discussion on current, non-controversial events, educational presentations, chair exercises, board games, sing-along sessions, crafts, lunch preparation and manicures.
It takes a special type of person to run an ADP. The program's staff are kind, caring and compassionate. "They're fantastic as far as patience, professionalism and in understanding what we're going through," says Tony.
For many clients, they are dealing with loss: the loss of independence, the ability to make judgment calls, among others. Depression is not uncommon. As for Tony, he says he accepts the fact that he will never have things he had before the progression of his disease. That's why he enjoys helping in a way that he can, through motivation and humour. "I throw in the occasional silly joke," he says with a smile.
All clients are unique in terms of their condition and many are at different stages of their disease. Tony says his long-term memory is great; but short-term, not so much. A well-travelled man, he remembers visiting the Great Wall of China and seeing panda bears and the Taj Mahal. He likes to help by telling stories to other clients. "Their eyes light up," he says.
An important education piece comes with the creation of this Centre. Starting in September 2016, Algonquin College students participating in the Faculty of Health, Public Safety & Community Studies will begin to receive hands-on training through their placements, increasing the knowledge and skills of those entering the workforce to meet the needs of the growing older adult population. "The program will give Algonquin College students a unique opportunity to learn and apply new skills," says Shirley Chennette, Program Coordinator of the ADP. "By collaborating with the college we are able to enrich the program for our clients."
To become a client, one must have a confirmed diagnosis of dementia and a referral through the Champlain Community Care Access Centre. The Algonquin College site program's hours are as follows: 10 a.m. to 4:30 p.m., Thursday through Saturday. The MacNeil site program's hours are 9:30 a.m. to 3:30 p.m., Monday through Saturday. For more information about our ADPs, please call 613-591-3686 or email info@wocrc.ca.