WOCRC Board Recruitment – 2021-22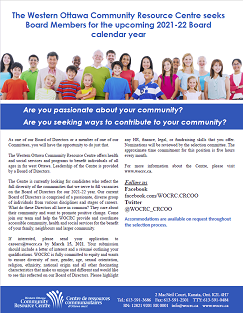 Are you passionate about your community?
Are you seeking ways to contribute to your community?
As one of our Board of Directors or a member of one of our Committees, you will have the opportunity to do just that.
The Western Ottawa Community Resource Centre offers health and social services and programs to benefit individuals of all ages in far west Ottawa. Leadership of the Centre is provided by a Board of Directors.
The Centre is currently looking for candidates who reflect the full diversity of the communities that we serve to fill vacancies on the Board of Directors for our 2021-22 year. Our current Board of Directors is comprised of a passionate, diverse group of individuals from various disciplines and stages of careers. What do these Directors all have in common? They care about their community and want to promote positive change. Come join our team and help the WOCRC provide and coordinate accessible community, health and social services for the benefit of your family, neighbours and larger community.
If interested, please send your application to careers@wocrc.ca by March 15, 2021. Your submission should include a letter of interest and a résumé outlining your qualifications. WOCRC is fully committed to equity and wants to ensure diversity of race, gender, age, sexual orientation, religion, ethnicity, national origin and all other fascinating characteristics that make us unique and different and would like to see this reflected on our Board of Directors. Please highlight any HR, finance, legal, or fundraising skills that you offer.
Nominations will be reviewed by the selection committee. The approximate time commitment for this position is five hours every month.
More information about the Centre is available at www.wocrc.ca.
Follow us on
Facebook
facebook.com/WOCRC.CRCOO
Twitter
@WOCRC_CRCOO
Accommodations are available on request throughout the selection process.